MEMBERS COCKTAIL

Our last Members Cocktail Evening, held on 7th April was a great success. We would like to thank Senator Dato' Rahim, our Board Member, for hosting the event. The Members Cocktail is an opportunity for us to welcome you to "Your Club". This is the time for you to revel in the prestige of being a Bankers Club member and to relax with your fellow Club members and friends.

Come and join us for this bimonthly event, and take on our quiz challenge. Intellectually stimulating and fun game for all participants, the last round proved to be closely run, with the four teams battling it out for victory. Captained by Richard Moss, we saw Team "Loose Cannons" come through victorious, winning themselves a bottle of wine and complimentary vouchers for a lunch buffet at the Club for every team member. Are you up for the next Quiz Challenge?

Our next Members Cocktail Evening will be on 2nd June, and we look forward to welcoming all members and their guests. Advanced booking is required. Kindly RSVP by faxing to us the registration form, before Monday, 26th May.

Confirmation Form (PDF) Download & Fax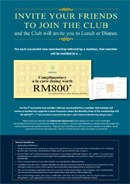 Note: Members are advised that the Club will be closed on Thursday, 1st May for Labour Day, Tuesday, 13th May to mark Wesak Day and on Saturday, 7th June, for the Birthday of DYMM SPB Yang Di-Pertuan Agong.