THE CHAIRMAN'S MESSAGE

YAM Tunku Tan Sri Imran Ibni Almarhum Tuanku Ja'afar
- Chairman
Dear Members,
I
made mention in the previous issue of 'Columns' that the Club would be organizing some winemakers dinners during this year, and I am delighted that in May we will be having a Wine Gourmet Dinner in conjunction with Pago de Vallegarcia of Spain, and we are very pleased the actual winemaker, Adolfo Hornos, will be joining us on the evening in question to introduce the three wines he has chosen to accompany a five course menu. It promises to be a most convivial evening and whilst space is limited, I hope as many of you as possible will join us at this event. (Please click here for more details).

As can be seen throughout this month's magazine there is plenty of good fare on offer during the next two months and I hope you will avail yourselves of the excellent food and beverage on offer.

I look forward to seeing you in the Club.


YAM Tunku Tan Sri Imran Ibni Almarhum
Tuanku Ja'afar
Chairman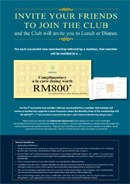 Note: Members are advised that the Club will be closed on Thursday, 1st May for Labour Day, Tuesday, 13th May to mark Wesak Day and on Saturday, 7th June, for the Birthday of DYMM SPB Yang Di-Pertuan Agong.