HISTORY OF THE BANKERS CLUB

Founded in 1987, the Bankers Club is a sophisticated venue where senior business executives, community leaders and their international associates meet and entertain in an atmosphere of exclusivity. The Bankers Club has established itself as one of the city's leading private clubs.
The Members of the Bankers Cub enjoy an impressive setting in which to entertain through the Club's varied programmes of Member activities. The understated elegance of the clubrooms, the courteous and efficient staff and the fine cuisine are some of the benefits that have encouraged an elite roster of business, government and society leaders to join the Club.
Located on Jalan Imbi, the Club is directly opposite Times Square. The spacious rooms are spread over 21st, 22nd and Penthouse floors of the Amoda Building, with panaromic views over the city.
Ample parking space in a central location enables Members to take advantage of their membership at the Club, making it convenient to enjoy the Club's facilities and the many organized events.
Whether for business or pleasure, the Bankers Club aims to provide its Members with the perfect choice for any meeting, reception or dining needs.
The Club itself dominates three levels, with the 21st floor housing private banquet rooms, the Conference Room and the traditional English-style Members Bar. The reception on the 22nd floor leads out into the grand lounge and Oriental dining-room, serving Cantonese, Sichuan and Malaysian cuisine. An eight-metre high ceiling, extensive use of locally crafted Nyatoh wood paneling and the glass perimeter are just some of the Club's outstanding features. The Library, adjacent to the lounge, is the perfect retreat to relax in comfort.
The elegant cantilever staircase then carries Members to the gallery-style Western dining-room to enjoy a wide range of French, Italian and Mediterranean cuisine in a more formal setting. Next to the Gallery is the Club's traditional Board Room, which continues the wood paneling and allows Members to hold private, exclusive parties as desired. The Club's banqueting facilities can cater for up to 300 people.
To bring Members together and to enrich their lives, the Bankers Club maintains an interesting and exciting calendar of regular and special events.
Art exhibitions have been held at the Club and well-known personalities from business, entertainment, government, diplomatic and cultural circles have been invited to speak at the Club.
Events also include food promotions giving Members the chance to sample the finest wines and cuisine from around the world whilst golf tournaments, music evenings, together with fashion and jewellery shows, ensure that a wide range of interests are covered.
Such events continue to flourish at the Club, with Members enjoying the time spent utilizing their membership to the fullest extent.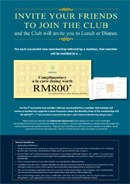 Note: Members are advised that the Club will be closed on Thursday, 1st May for Labour Day, Tuesday, 13th May to mark Wesak Day and on Saturday, 7th June, for the Birthday of DYMM SPB Yang Di-Pertuan Agong.